Alien Abductions with Kathleen Marden and Denise Stoner
Are you a candidate for alien abduction? Working together to thread more pieces of the alien abduction puzzle together, Kathleen Marden -- niece of Betty and Barney Hill -- and experiencer Denise Stoner present a list of compelling accounts. There, they underscore the ongoing mystery while suggesting a potential purpose for abduction. Read The Alien Abduction Files - the most startling cases of human-alien contact ever reported.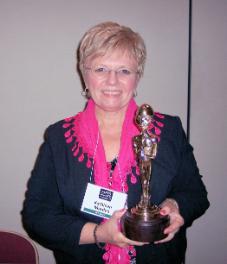 Kathleen Marden is a well-known UFO abduction researcher, author and lecturer with 23 years experience in the field. She is MUFON's International Director of Abduction Research. For ten years Kathy volunteered as MUFON's Director of Field Investigator Training. In 2012, she was the recipient of MUFON's "Researcher of the Year" award.

She earned a B.A. degree in social work, with honors, from the University of New Hampshire in 1971, and participated in graduate studies in education while working as a teacher and education services coordinator. She is also a certified hypnotherapist.

Her interest in UFOs dates back to September 20, 1961, when her aunt, Betty Hill phoned her nearby home to report that she and Barney had encountered a flying saucer in New Hampshire's White Mountains. A primary witness to the evidence of the UFO encounter and the aftermath, Kathleen has intimate knowledge of the Hill's biographical histories, personalities, and the previously unpublished historical files pertaining to their sensational story.

She is the author of three books, Captured! The Betty and Barney Hill UFO Experience, Science was Wrong, with nuclear physicist/scientific ufologist Stanton T. Friedman, and The Alien Abduction Files, with Denise Stoner (May 2013 release). Her chapter "UFO Abductions: Fact or Fiction" appears in UFOs and Aliens: Is There Anybody Out There? Her articles have been published in the MUFON UFO Journal, Open Minds magazine and on several websites. Kathy has appeared in television and radio programs in the US, Canada and the UK, and has lectured throughout the United States. She is recognized as the world's leading expert on the Betty and Barney Hill abduction.
Kathy resides with her family in Central Florida, and can be contacted at Kmarden@aol.com. Her mailing address is P.O. Box 120172, Clermont, FL 34712. You can purchase her books or read some of her articles at www.kathleen-marden.com.
Denise Stoner is MUFON's Asst. Director of Abduction Studies, Florida, MUFON Field Investigator, Florida and STAR Team member. Director of the Florida Research Group affiliation of UFORCOP. She also holds educational forums for public and private gatherings for abduction experiencers. Her involvement in the UFO field spans more than 20 years.

Denise has an educational background in business and psychology, and is a certified hypnotist specializing in regressive hypnosis. She has taught classes in stress reduction for 12+ years for professionals in such fields as medicine and law.

She began her research in hypnosis under Dr. Bob Romack, (Denver, CO). They worked together for five years on pain control, smoking cessation, and past life regression research. Denise also worked as a paranormal investigator in the homes of abductees that felt they had been visited by spirits following abductions. She recorded evidence of the development of psychic abilities in individuals following their experiences with UFOs and ETs, and worked on a Team with Dr. Romack studying abductees' abilities to locate missing people and predict future events.

For 12 years Denise did back ground investigations for the military on recruits seeking highly classified clearances for work on nuclear submarines. Prior to retirement, Denise moved to the Naval Air Warfare Center, Training Systems Division, military research facility where she was the training coordinator for several hundred military and civilian employees.

Retired S.C.U.B.A. instructor, cave diver and former research member of the National Speleological Society Cave Diving Section.

Her "retirement" from the Federal Government has allowed her to expand her work with UFO research and investigation. Denise has appeared on many radio shows, and speaks yearly at the Daytona Museum of Arts and Science and the Paranormal Investigative Association, plus other venues. She has worked as an on-camera expert for documentaries produced in the UK. She is currently moving forward with some exciting new projects.

Her Hypnotherapy certification came through Hypnosis & Regression Training at the Hypnotic Research Society by Dr. Ronald P. De Vasto. Advanced Regression study through the National Guild of Hypnotist, Inc. by Donald J. Mottin.
About Wendy Garrett:
Communicator, intuitive, artist, mystic, and host of "Conscious Living" on Empower Radio.
My world was transformed in 1997 when I awakened to an entirely new awareness of reality through a metaphysical shift. The spirit energy that collaborated with me to reveal new dimensions of being and spirit worlds with which we cohabit and co-create our reality is still with me. And that is what I bring to the table now - in each and every life experience: multidimensional awareness and metaphysical presence.
As a radio broadcaster, my experience runs the spectrum of formats including news, talk, and music. Reporter, jock, news anchor, talk host and co-host, announcer, voice talent, I back-burnered and downplayed my metaphysical life while I learned the trade, acquired new information and new skills, gained entry into the world of interviewing and met some amazing people.
Radio back-burnered when I detoured from news to finally allow my paranormal world to have center stage. Totally immersed through a dramatic series of events that triggered an entire redirect of my life, I wrote about the initial encounter in Talking to Nightlights. Truly, a new beginning, the rewards upgraded as I have continued my lessons and learning on that journey.
Writing shifted to blogging and a renewed interest in interviewing with a dedicated focus on metaphysical and spiritual topics that included spiritual awakening and shamanism, because that is my reality, and there were no radio broadcasters who talked or lived this lifestyle. I hear, see, feel, sense, smell energy beings, ghosts, angels and spirit guides and I learn more with each encounter. As a conscious co-creator, I go where I am called. One can ask better questions when they walk the talk. (To that end, I work with a paranormal group who investigates hauntings.)
We are the creators here. We are the change we seek and we are in the company of others in spirit form who add the element of wonder to the playing field. That is where magic lives. Join me for Conscious Living on Empower Radio. I feature others who may or may not add a metaphysical element but are bringing light, joy, wonder and awareness to the world in whatever creative endeavor they have chosen to pursue.
Open your mind to some extraordinary views.  Blessings and Light wherever your path calls you!
Wendy