Emotional Eating: How to Break the Habit
Do you snack when you're not even hungry? Eat during or after a stressful event? Eat alone to avoid others noticing? Numb your feelings with food? It's time to change your habits with food to end emotional eating! Tune in to this edition of Welcome to Blissville on Empower Radio. Teri chats with Clinical Psychologist and Director of the Dialectical Behavior Therapy program at the American Institute for Cognitive Therapy, Dr. Jennifer L. Taitz on how you can successfully create new patterns to enjoy food, while respecting your body and your health!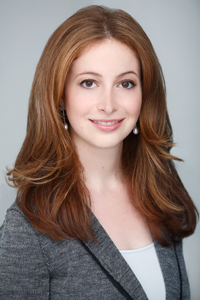 Dr. Jenny L. Taitz, Psy.D., graduated Magna Cum Laude from New York University and earned her doctorate in clinical psychology from Yeshiva University's program at the Albert Einstein School of Medicine in New York. Dr. Taitz is a certified Diplomate of the Academy of Cognitive therapy. She completed fellowships at Yale University School of Medicine and at the American Institute for Cognitive Therapy. Presently, Dr. Taitz is a licensed clinical psychologist at the American Institute for Cognitive Therapy where she provides individual and group therapy, directs the DBT program, and supervises doctoral students.
Dr. Taitz enjoys teaching her patients tangible tools to get "unstuck" based on scientific research within a nonjudgmental, supportive environment. As an intensively trained DBT therapist, Dr. Taitz incorporates mindfulness, acceptance, and motivational enhancement with traditional cognitive behavioral therapy. In addition to treating a diverse range of problems such as depression, generalized anxiety disorder, eating disorders, panic disorder, specific phobias, social phobia and borderline personality disorder, she also provides psychotherapy to patients with medical problems. Dr. Taitz has compassion and understanding for young adults struggling in academic settings with perfectionism, procrastination, inattention, anxiety, eating disorders, avoidance, and substance use. In addition, Dr. Taitz has expertise in helping individuals navigate life transitions, career changes, and aging. Her research has focused on the efficacy of a self-administered mindfulness intervention and mechanisms of change in mindfulness treatments.
Dr. Taitz is a founding board member of the New York City Association for Contextual Behavior Science. She maintains membership with the Association for Behavioral and Cognitive Therapies and Association for Contextual and Behavior Science, serves as an adjunct clinical supervisor in the clinical psychology doctoral program at Yeshiva University, and contributes to the blog, Urban Mindfulness. Dr. Taitz is the author of End Emotional Eating, a popular audience book on managing emotions for people who struggle with emotional eating.
About Teri Williams:
Teri Williams, A.K.A. The Bliss Lady, has been living her bliss since they day she was born. Like YOU, she's had her share of ups and downs, she's simply found a way to turn those moments around and find the spark to keep her connected to her own joy. Her first passion is her family. She is wife, mother, daughter, sister, aunt, and includes her friends as part of that circle.

Her work includes: Author, Publisher, Radio Co-Host, TV Producer, Ordained Minister, Energy Healer, Small Business Owner, Blogger, Connector and Thought Motivator. She shares her passion by empowering others to live the life of their dreams. Teri believes that what we are and what we do begins with love, self love. "We cannot fully love anyone or anything if we don't love ourselves first." Her books, The Blisstory Journal, The Sisstory Journal, and co-authored book, Girlavanting, The Girls Guide to Balance, Bliss and Fun!" are all celebrations of life, with engaging, entertaining and sometimes enlightening questions, actions and activities to revel in.

As a humanitarian, Teri is dedicated to serving humanity through charitable efforts whenever she can. She is especially drawn to charities that help those in unsavory or unsafe circumstances, overcome their harmful conditions or surroundings, through empowerment and enrichment programs in education, self-care and more.

For over 20 years Teri has followed the teachings of many masters and inspiring leaders, including Wayne Dyer, Marianne Williamson, Deepak Chopra, Louise Hay, Mother Teresa and The Dalai Lama. She adds that Oprah and Steven Covey have had a tremendous impact on her life. Oprah gives us all hope that we can "become anything" and Steven Covey teaches with an abundance mindset, "There are enough resources and success to share with everyone!"

Today Teri is following the teachings of Thich Nhat Hanh through the Detroit Lotus Sanga and is pursuing a course in Intuitive Empowerment and Shamanic Wisdom with Lori Lipten. "Through meditation and mindfulness each and every one of us can connect with our own inner peace, creating an environment of compassion, acceptance, abundance, love - bliss."

Tune in to Empower Radio as Teri Welcomes YOU to Blissville by sharing resources, stories and people on the road to bliss! Her high energy and upbeat personality are contagious; catch it today!