Karen Vuranch "God's Energy Comes Through Me"
Karen Vuranch weaves together a love of history, a passion for stories and a sense of community. She has toured throughout the United States with her traditional storytelling and living history performances, as well as made five performance tours of Wales and England performing her play, Coal Camp Memories. In 2002, Karen participated in storytelling exchange in China.
"The ancient Celtics had the sense that God is in everything and everything you do is spiritual. That's how I look at my life — spirituality is part of everything that I do. When I'm creating, I draw upon God's energy, but I also just let it come out through me." ~Karen Vuranch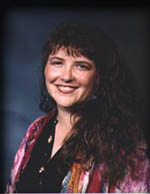 Karen brings history to life with historical interpretations of women from America's past. She recreates author Pearl Buck; labor organizer Mother Jones; Indian captive Mary Draper Ingles, Civil War soldier and spy Emma Edmonds, humanitarian Clara Barton, Renaissance pirate Grace O'Malley, Wild West Outlaw Belle Starr and, the first lady of food, Julia Child, Hollywood gossip columnist Louella Parsons. Her newest character is beloved children's writer, Laura Ingalls Wilder. Additionally, she performs a WWII play, Homefront.
On a lighter side, Karen writes and produces audience participation murder mysteries. She often works with community groups, creating a production in just two or three days using members of the community. She also has a troupe of actors that travel to present the mysteries. The In Cahoots Players are a troupe of incredibly talented actors from Southern West Virginia. Collectively, they have performed in plays, musicals and murder mysteries throughout the region. Their stage presence, lively and spontaneous banter and quick replies make for a hilarious evening of entertainment.
Karen says, "The art of storytelling and live performance becomes intrinsically involved with the audience — the audience is as much a part of it as I am. I have a little mantra that I always do before I go onstage. When I offer my work to God, the connection with the audience is magical."
Karen has been honored by many organizations including the Corridor Tourism L Commission, receiving the Robert C. Byrd Community Service Award in April of 2005. Other honors include the McWhorter Achievment Award from the West Virginia Storytelling Guild; Performing Artist of the Year for Tamarack, the West Virginia state arts center; the Spirit of West Virginia Award from the state tourism office and the Celebrate Women Award from the Women's Commission of the West Virginia Legislature. In 1994, Karen and her husband, Gene Worthington, performed together at the Ellipse Theatre at the White House. On her audio tape, "My Grandmother's Necklace," Karen performs stories she has written and collected. She is currently in production with a new CD of the stories and song show Potluck: Stories and Songs about Women, Wisdom and Food, which she performs with Julie Adams and Colleen Anderson. Karen also has completed a DVD of Coal Camp Memories.
Karen graduated from Ashland University in Ashland, Ohio with double majors in Sociology/Social Work and Theatre. She earned a M.A. from the Marshall University Graduate College in Humanities, focusing on American Studies with a minor in Celtic Studies. In addition to her work as a storyteller and actress, Karen is an adjunct faculty for Concord University, teaching Theatre, Speech and Appalachian Studies. She is a freelance consultant for the Coal Heritage Highway Authority. For this organization, she wrote and developed their Interpretation Plan, organized an event celebrating coalfield baseball and is currently directing an oral history project.
Karen says, "My spiritual beliefs and artistic growth are totally intertwined with each other. As I create, I draw upon spiritual energy. As I become more of a spiritual person, I become a better artist."
Find out more at ArtasWorship.net or "like" the Art as Worship Facebook page and get a daily boost of inspiration and creativity.
About Vanessa Lowry:
Vanessa Lowry is an author, artist, radio host, marketing consultant, and graphic designer. In addition to hosting Art as Worship on Empoweradio.com, she leverages more than 30 years of design and marketing expertise to assist book authors who are self-publishing. Vanessa has self-published eight of her own books including The Magical Influence of Listening. This book was created in collaboration with nine co-authors including Empower Radio's founder Brent Carey. Vanessa is currently writing a book from information collected through the Art as Worship radio show. Find out more about this project and Vanessa at www.ArtasWorship.net.