Saving Lives - One Wing, One Paw at a Time with Sue-Ryn Burns
We have all seen injured or abandoned wildlife, and while our hearts go out to them, most of us don't know how best to help. When an injured animal is found, the goal is releasing it back to a natural habitat where a normal life can be resumed. Sue-Ryn Burns is a longtime wildlife rehabilitator, and we'll be talking about what it takes to save these little lives, from housing, feeding and cleaning up after injured and orphaned animals to how such service requires being observant, calm, and able to commit time to their care and well being.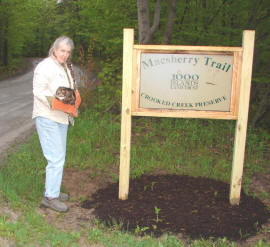 Sue-Ryn Burns has been working with herbs and animals in many different ways for more than thirty years. Her initial experiences were using natural rearing and healing techniques with domestic and farm animals. She earned her NY State rehabilitators license in 2004, and her Federal license (which allows her to work with migratory species) in 2009. Sue-Ryn works primarily with small mammals, songbirds, and waterfowl, though there are many exceptions to that list. She is the only Federally licensed rehabber in a three county area, so she gets a lot of calls about all sorts of winged folk. You can find out more about her work at Wellesley Island Wildlife http://www.wellesleyisland.net/wellesleyislandwildlife.htm
About Corbie Mitleid:
Corbie Mitleid has been on the mystic's path for over 30 years -- meeting challenges, always questioning, leading the "examined life." It's proved to her an essential Cosmic Truth: God gives all of us what we need for a life filled with miracles and joy, and as long as our hearts are open, whole, and aligned with our Source Energy, anything is possible. (And it never hurts to bring laughter on the path with us!) If she can share that blessing with you, she feels she's doing things right.
While she's now a full time intuitive counselor and psychic medium, her career has encompassed positions as a professional actress, television producer, radio personality, executive recruiter and "power behind the throne" for a number of high-profile CEOs. Corbie knows what it is to live life on a roller coaster with no brakes: she's survived divorce, abuse, poverty and life-threatening illness, always maintaining her strength, courage and humor. "We have opportunities we can go after, and challenges to get past. After dancing with breast cancer three times, I learned that first-hand. My job is to give you the tools and courage to deal with both situations. Everything else is free will, and up to you!"
Corbie travels internationally, bringing insight, hope and encouragement to clients dealing with indecision, confusion, fear, even depression. Now she expands her work to a worldwide radio audience. Listen, connect, and cross the bridge from where you are to where you want to be with Fire Through Spirit on Empower Radio!